If an error occurs within BitMeter then the following screen will be displayed: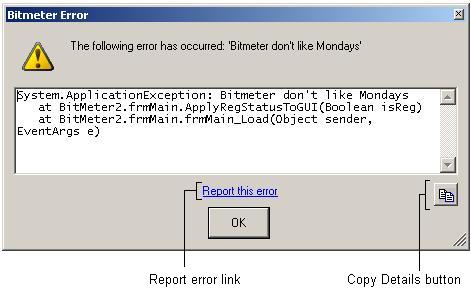 If the error is not serious then Bitmeter will continue to run, however if the problem means that further execution is not possible then the programme may shut down.
Please consider reporting any errors that you see to the author, so that they can be investigated and fixed. To report an error click on the Report Error Link to open an email, and then click the Copy Details Button to copy information about the problem to the Windows Clipboard, then paste the error details into the email.
Error details are also recorded in the 'Error.log' file, inside the BitMeter installation directory. If you wish to report an error, but the error screen in no longer visible, then simply email the log file to rob@codebox.org.uk