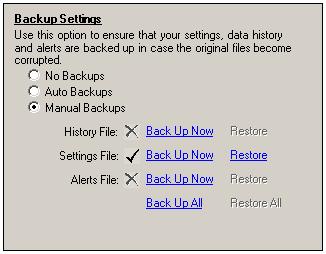 The BackUp Settings display allows you to configure how BitMeter manages back-ups of its configuration files. In certain circumstances it is possible for some of the data files used by BitMeter to become corrupt, resulting in loss of application settings, upload/download history, or alert information. Data loss can occur if your PC is turned off without first shutting down Windows, if Windows encounters a Stop Condition (Blue Screen of Death), or if BitMeter is shutdown suddenly due to a fatal error, or if its process is terminated manually via the Window Task Manager.
BitMeter has 3 backup modes:
No Backups

- none of the configuration files are backed up, and any corruption of these files is likely to result in permanent loss of data.

Auto Backups

- BitMeter will manage the backing up and restoring of files automatically. Data is backed-up at regular intervals, and if a corrupt file is detected then it will be restored automatically.

Manual Backups

- files may be backed-up and restored using the links on the screen shown above, no automatic back ups or restores will be performed.