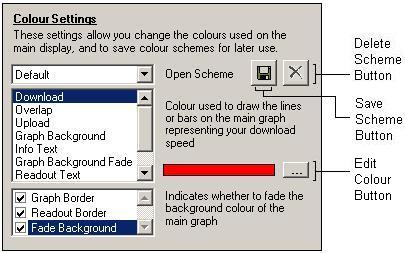 Individual colours can be altered by selecting the appropriate item from the list, and clicking the Edit Colour Button. The Overlap colour is used when your connection is uploading and downloading at the same time, and the upload and download bars overlap to some extent, as shown: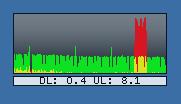 The Info Text colour will be used for displaying information and messages in the main window, and should therefore stand out well from the selected Graph Background colour.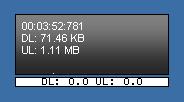 The Readout Text colour and Readout Background colour values determine the colour of the text, and background, in the Readout Area at the bottom of the main window.
The Graph Background Fade colour is only available if the Fade Background option has been selected. The Fade Colour is the colour that the background fades to, towards the bottom of the screen. For example, in the picture below the Background Colour has been set to Red and the Fade Colour has been set to Green*: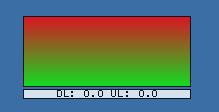 The Graph Border and Readout Border options control whether a black border is displayed around the Main Window, and Readout Area respectively.
If the Fade Background option is selected, then the Background Colour will slowly merge into the Fade Colour towards the lower part of the display, as seen above.
Colour Schemes allow you to save various different colour combinations, and then swap between them at will. BitMeter also comes with a number of ready-made colours schemes. To save a colour scheme, make the appropriate colour selections and then click on the Save Scheme button - you will be prompted to choose a name for the scheme, and then it will be saved and will appear in the Open Scheme selection list. To remove a previously saved colour scheme, select it from the list and click the Delete Scheme button.
*The author cannot be held liable for nausea or sickness, resulting from misuse of this feature