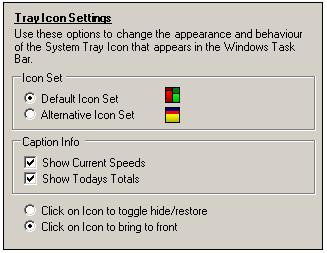 The System Tray Icon Settings screen allows you to configure how the icon that appears in the Windows System Tray behaves. The icon changes its appearance according to the upload and download speeds that BitMeter detects. Two icon-sets are available, and the Icon Set option allows you to switch between them.
The Caption Info options determine what information is displayed in the small window that appears when you hover the mouse over the Tray Icon (note that Windows imposes a 63 character limit on the text that can be displayed in this window, and so the information that is displayed may be truncated under certain circumstances).
When you click the mouse on the Tray Icon, and the main BitMeter window is hidden, the window will re-appear. If you click on the Tray Icon when the main window is already visible, then one of two things may happen, depending on the value selected for the final option on this screen. If the 'toggle hide/restore' option has been selected then the main BitMeter window will be hidden, if the 'bring to front' option is selected then the window will be placed in front of all other windows on the screen.