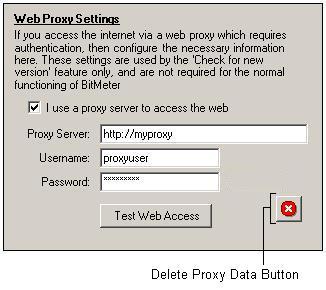 If you access the internet through a Web Proxy, and wish to use the 'Check for New Version' feature, then you will need to enter appropriate information on this screen, to allow BitMeter to access the web and perform the version check. If you are not sure whether you are using a proxy or not, click the Test Web Access button (if you use BitMeter on a home PC directly connected to the internet, then you are unlikely to need to enter proxy information, however if you are using a PC on a corporate network then it is more likely that you will - ask your system administrator for details).
The Proxy Server field should contain the hostname, or IP address, of the web proxy that you are using. If the proxy uses a non-standard port number (ie. not port 80) then you should enter this as part of the server address, separating the name and port number with a colon. For example, if you use a web proxy called 'gateway.mycompany.co.uk', and the proxy uses port '8080' then you would enter the following:
http://gateway.mycompany.co.uk:8080
The password that you enter is saved along with your other BitMeter preferences in the 'BitmeterSettings.xml' file, however it is encrypted in a relatively secure manner.
To delete all saved proxy information, click the Delete Proxy Data button.